Patches of the NCZoo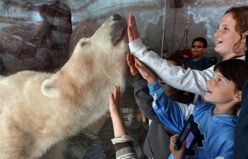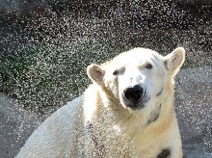 Well, even though the Exhibit has been opened a month, the North Carolina Zoo's Polar Bear habitat is not out of the woods yet.
We were so excited to meet Patches from the Erie Zoo, a 26-year old polar bear that had lived her life on concrete - had the chance to move to our new exhibit and that the exhibit could open WITH at least one polar bear! And what a bear she was. As gentle as a bird, strolling her whole exhibit, exploring here and there. The zoo even decided to remove the hotwire plant protection fencing, as she was not going to mess with her new surroundings, she was a gentle bear and wouldn't be too tough on her plants.
During the Ceremonial Opening - the Governor was talking about some self-serving topic or another, while the entire audience watched Patches wondered into the stream, shake off her long white coat, then dive into her pool to surface again with her eyes looking back at the activities going on at the podium. He even commented that he's never been out-shown by a bear before. That day, Patches was in fine form. She was busy making good use of a beautiful sunny day and being adored by everyone at the event.
Last night the news came through Facebook - that Patches had died. Apparently she had been suffering from a series of ailments that the vets had been treating as best they could. But time and change sometimes aren't so fair. Yes, she had out-lived her wild cousins, but in captivity it's common for an old bears to be in their mid-30's, with Debbie living to be 46! But having lived at Erie Zoo, and being moved to a completely new environment is a big change, in so many ways we can't imagine. In the end, was this a good thing for her, or not? No matter how she may have "liked" the new habitat - there was a long, hard road getting there. I like to thing she just feel asleep under a tree, and slowly left her body behind - and moved off to whatever next incarnation a Polar Bears like Patches would attract. She will be missed.
There is still one more Bear in the Exhibit, Anana. She's from Lincoln Park - and they want her back once they complete their new exhibit. But until then, let's hope that some young bear (or two) will be needing a permanent home. And in the meantime, the North Carolina Zoo's Polar Bear habitat gets to mature into one of the best new PB exhibit complexes anywhere.