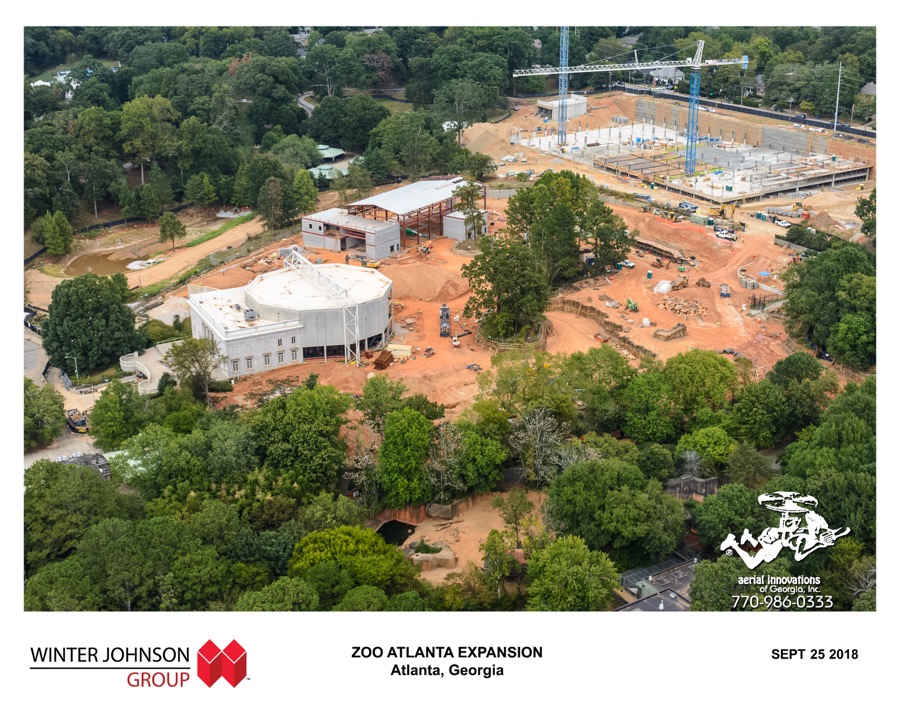 My last post was a year and a half ago! and the years roll by.


Since mid-2016, we've continued to be primarily focused on the Cyclorama project (Project C) with it's 10-sided space at the front door of Zoo Atlanta. The project was to create a huge new plaza at the current entry plaza and remove the hideous Administration building, renovate the Cyclorama into the new Administration offices and a 1000 person 2 story event space overlooking a new expanded Savanna, with a new huge elephant barn and habitat. It's a huge project and has been a challenge to hang on.

So now, two years later, we are half way through construction on Project C - but now it's quite public and the signs are clear - something big is happening at Zoo Atlanta. I will fill you in on some details below with my 2018 Update.

At the 2018 Ursa, we are engaged in a few new projects - still working on some and some never got off the ground.

But for the comparison, her are the NUMBERS - Let's see what's happened.


1 Zoo Atlanta Elephant habitat - Now named, "Grand New View" - we are in CA (Construction Admin.) services - playing a role in all the pricing, RFI's, shop drawings and layout of all the site and barn elements. It was a long road but we are 1/2 way through construction - hope to move elephants over this coming spring to renovate their old home for Rhino - but the habitat and Savanna hall won't be open until it's done. It's still going to transform Zoo Atlanta, but it's been harder than it looked back when it started 2014. Wow.

x Zoo Atlanta Lorikeet walk-through - Arrived DOA (no $$ available).

x The Nest - competed the work (finally) on the Nursery school playground with limited funds, but a foundation for the school to thrive. Looks great! Perfect habitat for kids.

x Ellen Trout Zoo - Gorilla exhibit concept design for new complex in Lufkin, Tx - the project brief has been completed since 2016 - All they need is $, and now they need even more due to the Steel tariffs. And we wait.

2 Chimp Haven - Best Sanctuary for chimps anywhere. Just saw a new documentary from BBCA on a day in the life of a chimp at CH. We completed the design for the current phase of construction. We had big dreams, but we had to scale back to a single new holding bldg and three habitats with water moats and fences, and modifications to the two Phase II for enlarged Keeper areas, plus three new corals and two new short holding wings. To keep me busy while the architects and Engineers developed their plans, I did actual Landscape Plans for the entire phase II &III site area. But now I wait until the heavy construction is complete, and see if there is any money left…

x San-Lee Nature Center - Got built and is open - and everyone is happy. Especially HH architects - - after a successful couple of years, they were named Architectural Firm of the Year for Raleigh, NC. Congratulations to Kristen Hess, my partner on the Polar Bear project at NCZoo.

x Mass Audubon - That was a new Red Fox habitat with homestead Cabin on the edge of Drumlin farms. That also got built - and is open - but not everyone is happy! Things changed from an open moated habitat, into a fenced enclosure with a simple view panel. I haven't seen it

x Monkey Jungle - Still waiting for funding. I keep up with them and one day we will have a project.

x Marine Sanctuary - DOA on arrival. We got involved with the trainers, who don't really want a 'wild sanctuary', not the director who wants one.

x Tanzania Zoo in Dare es Salaam - Another DOA - great site, great concept - huge price tag. and the language barrier killed this project for Gail and I - but it was a great week of Design. Since Gail was involved, we created a Peace Zoo. (Dare es Salaan- City of Peace!). She programmed an entire entry complex and museum experience to show how the animal community seeks Peace. There was a safari ride concept through open moated habitats for African's best- Elephants, Lions, Chimps, giraffe, Zebra -everyone, set on a 150 acre spread. Multi-millions of dollars whatever why you cut it - even in Africa. They weren't prepared for that number even though they were wanting US comparisons. It would have been a new San Diego wild animal park.

But luckily - other projects slipped in to support Ursa since the last accounting.

3. Oklahoma City Zoo - During the last couple of years, I"ve been consulting with Dr. Dwight Lawson - who was previously at Zoo Atlanta, now director at OKC. He's been great to find projects for us, from the early concept projects with my Botanical Garden collaborator, Tres Fromme, we developed an overall concept plan for the park and has been involved in building them. From the $2M Picnic Grove and Great Lawn project at the lakeside, and with my Atlanta based Architect, Pete we have been working on a Galapagos tortoise habitat in the children's zoo, an new Orang climbing structure at Great EsApe, and a new set of Condor Aviaries over the existing 1940 Grottos. We are also planning an Amphibian Garden and an Azalea Garden and Tres designed his new Entry Plaza. So since 2016, I can can say we've added a major new client and friend.

4. Riverside Discovery Center, Scottsbluff, NE. - Pete and I were selected to design a new home for twin Grizzly Bears "Smoky and the Bandit"! This little zoo in an even smaller community took these young bears in when no one (with an already built enclosures) came forward, we were charged with designing an economical, wonderful, enriching and educational habitat for their Bears. The design was the easy part - raising money for this project is much harder, but Zoo Director Anthony - is pressing on.

5. And then there's Koko's Estate. Working with the Gorilla Foundation to develop an expansion on Koko's home for wayward Gorillas. Funding will tell all for that project to move forward.

There may be some trends through all these recent projects -
• they are all under-funded for their ultimate dreams - even thought they are so well meaning.
• they are all just waiting to Transform their individual institutions (and City's in some case and Industries in others.)
• they all (well most) involve the top leaders in their specific area.
• they take a huge amount of patience in order to see them through.

As it turns out these trends have continued through 2018 but the numbers of active projects have reduced to only 5 (but one's a monster). The 10-sided structure has taken most of my time but soon it will be complete and I will have to find something to take its place.